Chapter 3
I found joy listening to jazz on my neighbor's radio. We couldn't afford one, but on my way home from junior high school I found a grassy spot to hide and listen to the exciting music coming from theirs. I loved Benny Goodman, Artie Shaw, and Glenn Miller. One day, the music teacher, Mrs. Minnie Dill came to me and said she'd observed I had an ear for music. She wondered if I'd like to try the clarinet. At first I said no, thinking I'd rather play a stringed instrument like my father's family. But then I hesitantly said I would. She loaned me the clarinet and gave me my first three lessons. After she moved away, a man named Norman Unwin organized a town band in Montour Falls and gave me some additional lessons.
My mother cashed in a life insurance policy to buy me my own clarinet. From that point on, the clarinet became my good luck charm, a kind of designer of lucky circumstances, an extension of my mother's will to see me succeed. It not only gave my life a purpose – to play the clarinet was my purpose. It provided a way to express myself, to attain the admiration I craved, enjoy the companionship of great musicians, and eventually to earn a good living.
No one ever had to tell me to practice. I played every minute I could. I copied what I heard on the neighbor's radio. I played along with the few records we had in our collection. I played with the town band in parades and concerts. After the band dissolved, I played in variety shows. I became an avid jazz improviser. I'd play solos I'd memorized from tunes by Benny Goodman and Artie Shaw, then improvise on those. I played with adult jazz trios at teen dances, clubs and restaurants while still a student at Cook Academy and later Odessa High School.
My mother was proud of me. My sister, Marguerite, made long lists of her favorite tunes for me.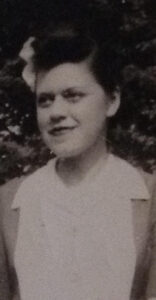 Bob carted me to gigs as soon as he was old enough to drive. (Cars were his passion.)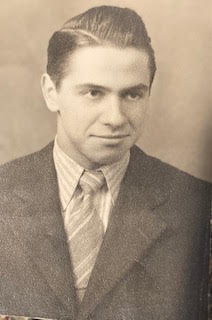 My cousin, Paul Kelly, knew music theory and one day taught me about the "flat fifth". He said to add it to the end of a song for a big finish, so that night, at the Town Hall, I tried it on the end of "Blue Champagne". I raised my clarinet and exaggerated the new note. I can still hear the roar of the crowd… the roar of approval… the roar that said "Keep doing this… it will bring you success!" And it did.
🔹 The Flat 5th – A basic triad, or three note chord, consists of the root, third, and fifth. In a C major chord the fifth would be the note G. To play the note that I added at the end of "Blue Champagne", play G flat.
You can hear me add the flat fifth to the end of "I Got Rhythm", from my CD "Frank Brown Turned Loose".