Chapter 13
Playing gigs was a passion and an outlet for my love of jazz improvisation. In the early days of teaching, I played on weekends, most often with Eddie Moore and his Orchestra, in Ithaca. I always had a gig on New Year's Eve. As I'd leave the house I'd say "Bye kids, see you next year!" and every year they fell for it.
Over the years, I sat in with Cab Calloway, Liberace, and Skitch Henderson, played alongside Jay Ungar and Molly Mason, and performed with Herb Harris. I gigged with Bill Keith, Al Gallodoro, Spiegle Willcox, Vaughn Monroe and His Orchestra under the direction of Don Jones, and Medicare 7, 8 or 9. At different times in different cities I played with the Dukes of Dixieland, Tommy Yetta and the New Orleans Band, and Reggie's Red Hot Feetwarmers. With Tommy Yetta, Elly and I enjoyed a fabulous trip to Portugal. I had fun with my own band, the Frank Brown Big Band in Tallahassee, Florida. But the best gigs I was offered came through my son, Joel.
Playing music with Joel is wonderful. His talent brings something out in my playing. I've been lucky enough to be included on many of his performances. He played with Bill Crofut and Chris Brubeck. Bill was friends with opera star, Frederica von Stade, and I was part of a CD they recorded called "Across Your Dreams". Bill, Chris, and Joel included me on their wonderful performance at Carnegie Hall with soprano, Dawn Upshaw. (From the small town hall to Carnegie Hall!)
Late in my life I was featured onstage with Joel and members of the group Triple Play: Peter Madcat Ruth, and Chris Brubeck. Joel was asked to create a concert at Skidmore in their newly built Zankel Hall. He asked Chris if his father, Dave Brubeck, would be interested in performing with Triple Play. Dave said yes. Then they said "Let's ask Frank, too" and a dream came true… I played with one of my heroes, Dave Brubeck. To say this was the thrill of a lifetime is a vast understatement.
Dave was friendly and generous. That night, I felt like his piano playing was supporting my clarinet. The guys were all on fire and it was something I'll always treasure: to play with my son and Dave Brubeck in front of friends and family. I'll always be grateful to Joel, Chris, Madcat and, of course, Dave.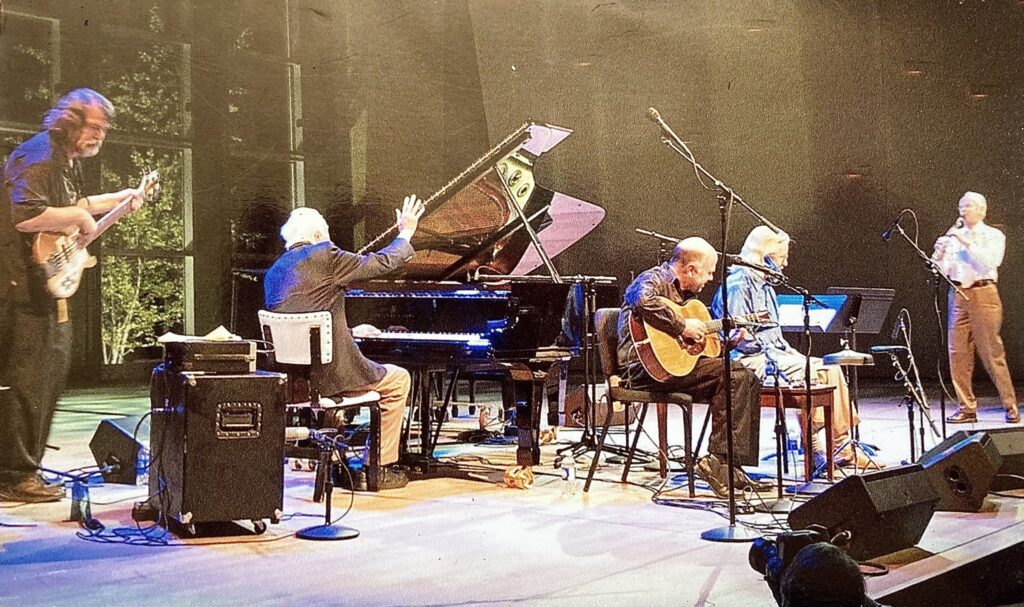 The CD recording from this concert is called "Triple Play: Live from Zankel Hall". (Another hall 😉)
Here's a link to the CD recorded that magical night: https://www.amazon.com/Zankel-Music-Center-Feat-Brown/dp/B0068RHGBK
In 2000, I recorded the CD "Frank Brown Turned Loose" with Joel Brown on guitar, Chris Brubeck on fretless bass, John Nazarenko on piano, Ted MacKenzie on drums, and my grandson, Jason Brown, on bass.
Listen to excerpts here: https://frankbrown.hearnow.com/