Chapter 15
Elly had wanderlust. We moved to Tallahassee, Florida. I taught at Florida State University High School and the Tallahassee Community College where I directed the Tallahassee Community Orchestra. During the last decades of our careers, we lived in Florida and New York states. I substitute taught in the Odessa and local areas, and also taught at Elmira College. I played gigs with my pals. My friend, Carl Kaiser, and I played weekends in Hammondsport. I'd go to Saratoga Springs in the summer and play at the horse race track there.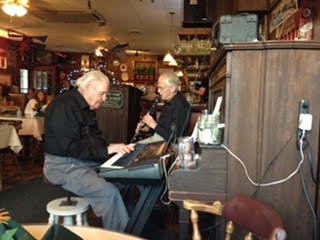 In Sarasota, Florida we were hired by Dan Kennedy to teach at his new Sarasota Military Academy and later taught at the second academy he founded. We wore uniforms and taught various music classes. Dan has remained a good friend and he and I talk often.
Not long after the last time we moved to Florida, Elly was hospitalized. Her heart was failing. She knew I didn't like living in Florida and decided we should move back to Watkins Glen. I thank her every day for making this move, to an apartment overlooking Seneca Lake… my home.
Elly was again hospitalized and remained so for almost two months. And because it was during the COVID-19 crisis, I couldn't be with her. Our "visits" were awkward… her on the inside of a big glass entrance door, me standing on the outside. It was a heartbreaking time. On July 6, 2020, just seventy-two hours after coming home, Elly passed away.
🔹 Read Eleanor Russell Brown's obituary here: https://vedderscottzinger.com/tribute/all-services/index.html?orderBy=service-date&search=Eleanor%20R.%20Brown