Chapter 12
I decided I wanted a doctorate. I'd kept current with trends and concepts in music education by attending graduate classes and music conferences. In 1961, I was awarded my master's degree in music education at Ithaca College. I applied to the University of Illinois and was accepted into their doctoral program. In 1966, the family moved for the summer to a rental house in Urbana, IL. We did this every summer until the fall of 1970, when I became a Teacher's Assistant for a music class at the U of I. Greg Rudgers took my place in Odessa for that school year. When I returned, Greg continued on and took charge of the Junior High Band.
While at U of I for that year of internship, I'd run into Linn in the Music Building. She was a freshman taking music courses, too, and I'd see her in the halls, just as I had at OMCS. She became a singer-songwriter and performed at The Red Herring Coffeehouse in town. Darron, Joel and Benny went to school in Urbana that year. Elly studied violin with Virginia Farmer, who become a life-long friend.
Champaign-Urbana opened all our eyes. Having come from a very small town, you could say it was a culture shock for the Browns. Each summer, my professors challenged me to think more critically. It was the sixties, a turbulent decade and my teachers reflected the times. I found value in new ways of thinking. It was exciting to bring home fresh ideas to my students each fall.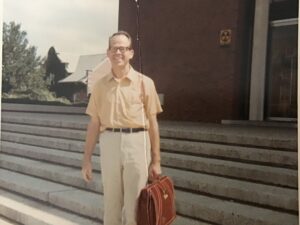 The University of Illinois had an innovative synthesizer program. I was exposed to a field of music that had never existed before. Back in Odessa, I invited Robert Moog to come to our school and demonstrate his invention, the Moog Synthesizer. Moog lived in Trumansburg, not far from Odessa. He and three featured musicians set up three huge machines covered in patch chords on our auditorium stage. That afternoon they introduced the first polyphonic Moog. Before that, synthesizers were monophonic, meaning they could only produce one note at a time, no harmonies. His invention changed that. Linn remembers him as a soft-spoken man in a suit. He walked to the front of the stage and introduced himself, saying "They say Moog is becoming a household name… funny, in our home it's always been a household name!"
One summer I learned the technique of using a diagram to create marching band formations. The director of the U of I "Marching 100" designed and taught this method. Using a box of new 3/8th inch screws and a piece of typing paper, I'd place the screws in a pattern, then trace around them. Each position was numbered and represented a member of the band. At school, each player was assigned a number according to their section; brass, percussion, woodwinds, drum major, and majorettes. We practiced our new skill on the football field and during games impressed the small but supportive crowd. Today, creating diagrams for field formations is done on computers. We were definitely "old school".
We were lucky to have a new band room and new auditorium just around the time I began my doctorate. The architect asked for my help in designing the acoustics in each. I helped him design and build risers in the band room for the chairs and music stands. We had storage for the instruments and band uniforms. There was even a door to the football field which made it easy to practice our formations. There were also small rooms, one with a piano, for private instruction. Elly gave lessons to her string students there, as well. We had a budget for new music and I would go to Hickey's Music Store in Ithaca after returning from Illinois, to choose scores that were new and inspiring. In our new auditorium, the band gave several concerts for the public each year.
🔹 I wrote two books for band directors and instrumental music teachers: A Band Director's Handbook of Problems and Solutions in Instrumental Music, and Individual Warm-Ups and Tone Developers (for wind and percussion instruments).
Please contact Linn for more information: linnbrownmusic@earthlink.net
Along with the concert and marching bands, we had a woodwind quintet, a theory class, a small jazz ensemble, and a large jazz band that evolved from the dance band of the early 60's. We had an ongoing student teacher program, and I was pleased to hear from the supervisor of practice teachers at Ithaca College that the program I'd developed could serve as a model for other schools. The student teachers who came from Ithaca College helped with lessons, and gained experience in conducting. I enjoyed mentoring them.
One semester, I proposed to the Board of Education that we hire jazz composer and arranger, John LaBarbera. They approved and John became guest artist-in-residence. He conducted band rehearsals and wrote pieces for our jazz ensembles, including "The Odessa File", a reference to a popular movie at the time. He assisted students who wanted to compose for band, one being Matthew Sweet. Matt wrote a wonderful composition that we performed in concert that year.
I was able to provide the students with state of the art equipment: a reel-to-reel tape recorder, turntable, and overhead speakers. Some students liked to experiment with recording, and the reel-to-reel was great for that. One year the band played a piece that came with a tape of humpback whales singing their unique songs. The band parts were written to compliment the whales. It was this kind of avant-garde experience I felt proud to give my music students. I feel confident that if I hadn't had the benefit of summers in Urbana, I couldn't have brought this kind of innovation.
Yet sometimes the simplest of things brought new ideas. I kept an old guitar in my office. It had a picture of Gene Autry on it. "The Gene" was fun for students to play on during lunch hours. There were always a few kids there singing pop songs and one of them playing that beat-up guitar. My son, Joel, learned his first three chords on "The Gene".
It was a good era for the Browns. I was head of the music department and Elly taught chorus, and developed the strings program. I'd formed a concert band, a marching band, a dance band, a small jazz ensemble, a woodwind quintet, and a music theory class. The concert band gave several performances for the public each semester and the marching band played at football games and marched in parades for various holidays. Thinking back to the conversation I'd had with a colleague before I took the job at Odessa ("There's no program there" / "That's OK, I'll build one"), our music department had come a long way.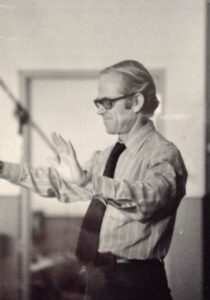 🔹 When planning a concert, try to vary the tempo and key of each piece so the order of the program remains interesting. Too many pieces in the same key or tempo can put people to sleep… and loud snoring can ruin even the best program.