Chapter 14
Throughout my married life, I enjoyed creating landscapes. I'd find shale rocks on the beach at Seneca Lake, and often along the roadside. At our Merchant Avenue home I built a stone retaining wall in the back yard. This separated a play area and a patio area. I used shale to build a BBQ grill at one end of the slate patio. My specialty was grilling chicken using the Cornell BBQ Sauce recipe. My father loved this particular BBQ chicken and we looked forward to the times Elly's family and my folks would come to our house.
🔹 Here's an excerpt from the recipe on the Cornell website:
Cornell Chicken Barbecue Sauce
1 cup cooking oil
1 pint cider vinegar
3 tablespoons salt
1 tablespoon poultry seasoning
1/2 teaspoon pepper
1 pasteurized egg
"Place the broiler halves over the fire after the flame is gone. Turn the halves every five to ten minutes, depending on the heat from the fire. Use turners or a long handled fork. The chicken should be basted with a fiber brush at each turning. The basting should be light at first and heavy near the end of the cooking period."
There was a field in the back of the Merchant Avenue house. It wasn't ours but the kids used to love to go ice skating on the pond there. One winter I surprised them by creating a "Winter Wonderland" in a swamp where thin trees had grown. When it froze, some of trees made loops, their trunks and upper branches both frozen in the ice. I trimmed and braided branches here and there until I had several features to skate around or through… the Donut Hole, the Wedding Arbor, the Figure Eight… the kids and their friends loved it.
We had a house in Millport, high on a hill. It was surrounded by farmland. One summer I used the flat stones lying around the property to build stairs on a steep hill that overlooked a wild area. I cleared scraggly trees and weeds until I had made a nice area to sit. The steps now led to a peaceful glen complete with a babbling brook running through it. There were many trees, some willows, and it was a lovely place to be. I'd practice my clarinet there and the sound would echo up and around the neighboring fields. The cows seemed to especially like the music.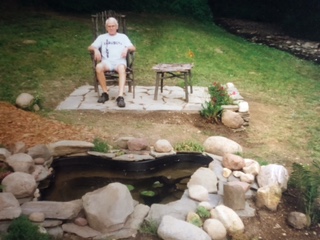 We had a house on the Alpine Road outside of Odessa. Elly was a talented designer and decorator. The house, built in the 1800's, was ramshackle but we bought it and renovated it. There were outbuildings and five acres of fields that came with it. I spent a lot of time outdoors. I got so I could look down at the grass and almost always find a four-leaf clover.
In one of the side fields I found tree stumps that I arranged in a circle. I called it Hobbitville. I made an herb mound near the big barn, and we dried bundles of basil, rosemary and oregano in our upstairs hall, hanging them upside down from the ceiling. They produced a relaxing scent as they dried. Elly then sold them in the consignment shop she'd set up in one of the outbuildings.
Elly and I seemed to have creative projects everywhere we lived, and that house seemed to lend itself to creative endeavors. We both like to paint. I liked to paint what I saw. She did abstracts and crafts. She pressed leaves into paint and then stamped them onto canvas. Later, she painted folk art style fish, with one painting being featured on a Lime Berry Winery label.
At the Alpine house we did headstone rubbings in the historical cemetery. We played music together and gave Christmas parties where she played with her string quartet. She made quilts and sold them to tourists from the front yard in the summer months.
🔹 Lime Berry Winery label art by Elly: